News
FEARDOTCOM REVIEWS:
Once again the critics have their say...but we get ours anyway. Make sure to post your opinions on the Dorff Congress, since most of the reviews we found are by people who just can't understand the ending, and don't like art. But here goes, there isn't much good, but there is bad and ugly!
WARNING: These sites may contain opinions from people who think that Stephen's role in SFW was crap. You are advised!
For a full montage of reviews, check out:
Stephen Dorff in online Magazine The Green Room
Stephen Dorff is the kind of respected actor that you can't help but respect. His quality of work far surpasses that of most actors who operate under the umbrella of quantity. His screen presence triggers the nerve that lets you escape into a character's subconscious and this is the very reason we go to the movies in the first place. Stephen Dorff, more than any other actor helps us escape!
For the rest of the article visit: http://www.greenroommag.com/issue14/cover.html
Special thanks to Jay M Burns, Editor in Chief of "The Green Room Online Magazine".
_________________________________
Fear Dot Com "Do you Like to Watch?" Opens August 30th!
"Do you like to watch?"

A woman's voice beckons from the computer. Images flash across the screen - parted lips, bound wrists, flesh. Her seductive tone summons you closer, inviting you in.

"Do you want to see more?"

If you click "yes" - and you know you want to - you'll be logged on to the internet site feardot.com, and the game begins. What follows is a miasma of hellish images that leave unsuspecting voyeurs suffering from morbid hallucinations and unspeakable terror.

When four bodies are discovered among the industrial decay and urban grime of New York City, brash young detective Mike Reilly (STEPHEN DORFF) teams with ambitious Department of Health researcher Terry Huston (NATASCHA MCELHONE) to uncover the cause behind their violent and inexplicable deaths. The only common factor shared by the victims? Each died exactly 48 hours after logging on to feardot.com. Were they being punished for their inquisitiveness? For succumbing to temptation? For indulging their guilty pleasures?

Determined to confront and destroy the evil force behind the deadly site, Mike logs on and the clock starts ticking. Now he's got 48 hours to face his own worst fears and solve the mystery, or suffer the fate of the victims before him. Together with Terry, he delves deep into a forbidden universe of contaminated souls and shocking imagery, each step bringing them closer to the horrifying counter-reality of feardot.com - and a life-and-death confrontation with Alistair Pratt (STEPHEN REA), a sadistic murderer who has eluded Mike and the FBI for years. What they discover is as mystifying as the deaths themselvesÖand more terrifying than anything they ever dreamed.

"Time's almost up."
Fear Dot Com was filmed mainly in Luxembourg, and Montreal, Quebec. As of now its scheduled to be released on Holloween of 2002. It's rated R for violence including grizzly images of torture, nudity, and language. Hmmm..Sounds promising.
_________________________________
Deuces In Entertainment Weekly
The Outsiders: the Next Generation. DORFF AND RENFRO play siblings straight outta 1950's Brooklyn trying to survive the mean streets that killed their brother three years earlier. The newfangled gang movie also gives a nod to S.E. Hinton with apearence by Outsiders and Rumble Fish king Matt Dillon. Just don't expect pompadours,doo-wop, or fonzie jackets. "Its a much grittier tale of poor kids protecting their neighborhood," says director Kalvert (Basketball Diaries). "But its not this drive-by-and-kill-someone stuff gangs do today." So far Deuces has been everything but wild, idling on MGM's shelf since before fall 2001. Kalvert, however isists his $10 million greaser drama was never scheduled to hit theaters before fall 2001. "people kept saying it was delayed, but there was no holdup," he says. " We were in post production [last spring] and the film was set for late September. But after Sept. 11, a violent New York street gang movie was not exactly what people were interested in, [so] it was pushed back." THE LOWDOWN Lets get reeeady to rumble? With Deuces Wild sharing an opening weekend with the mighty Spider-Man, it could be more of a crumble. (May 3)
Brought to you by Entertainment Weekly
And special thanks to Antonitte Mahto
More Reviews:
_________________________________
Stephen on AOL Chat
Wednesday May 1st 7pm EST
Actor Stephen Dorff is stopping by AOL LIVE to chat about his new film ' Deuces Wild,' which opens in theaters May 3. Stephen plays gang member Leon, who uses his power to keep drugs off the streets. Stephen has been acting since he was a young boy and has recieved critics' praise for his roles in ' The Power of One' and ' Backbeat '. Bring your questions for this intense actor!
Brought to you by AOL LIVE
_________________________________
Stephen Graces Late Night TV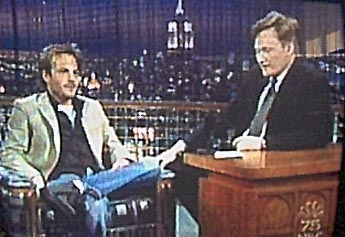 Stephen Dorff is out promoting again! He will appear on Late Night with Conan O'Brien on April 25th. E! will also be running a behind the scenes look at Dueces Wild all week. Including personal interviews with the cast, and crew, as well as a special insiders look at the makeing of Dueces Wild. Check it out to get your sneak preview of this soon to be released movie! Check your local listings for exact times and stations.
_________________________________